.
1. Shades
Make it a wayfarer. I really want one. One is enough, I don't need so much shades pun since me myself is wearing a glasses. I think every girls need at least one, nevermind even she already wears a glasses. Therefore, I want to get myself a shades!
2. Leopard Printed Shoes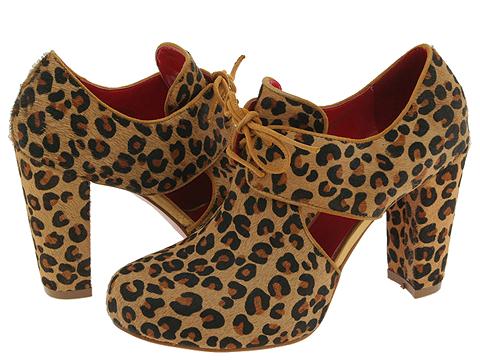 Actually I really want animal printed shoes. I've seen one in Forever 21 and it only costs RM45 but unfortunately, it's the last piece available and its size is two size bigger than mine. I'm still frustrated about the shoes so there it goes into my list for the items I lust after. But actually, I want shoes. Not only animal printed shoes, but lots of shoes. I am a shoe fetish. I want to have all type and all kind of shoes. I love them all, my love for shoes would never die. (OVERNYE!!)
3. Wrist Watches
I don't have a decent wrist watch. I have watches, but they aren't decent enough. I want watches that can match my every outfits. The one that looks a bit boyish, one that looks feminine, for casual wear, for sporty purposes (even I don't do sports). Just because I want them. Entah bila lah nak mendapat jam. Baby G pun jadilah. Nak jam baru, nak jam baru :(
4. Expensive Overpriced Skin Care
I really want to try Clinique on my skin. I've read a bad review about the product, but I've seen some good results of the products before my eyes. So I really want to try the products to see if it's effective on my skin. I need to get rid of those blackheads and pigmentation that I have and I need to reduce minyak masak kat muka aku ni ha. Pakai bedak pun berkilat kilat macam lampu disko. But the products are too pricey and I'm afraid it's not worth it to try.
5. Camera
Honestly, I am a fan of cameras. I love camera more than any gadget in the world. I want to have a DSLR but not the bulky one cause I think it's funny to bring around the bulky camera as I'm not a photographer. I'm just someone who loves taking pictures, and capturing memories (ewah!) So I want to get myself a decent camera so the pictures would be nicer, clearer and beautiful to see. I've seen a DSLR but it's quite bulky but it's so cheap! It don't even reached RM1000! HAH!
Anyone, care to BUY me any of those? Tee hee.
.